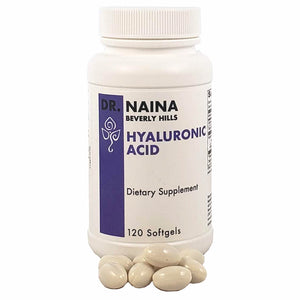 NainaMD Hyaluronic Acid
Sale price Price $70.00 Regular price
As an anti-aging supplement that offers antioxidant and anti-inflammatory properties while revitalizing skin improvement and texture, aids healing to the joints, eyes and skin from damage, making skin smoother and softer.
Hyaluronic acid draws water from the dermis into the epidermis giving the skin glow look to the skin. It can hold up to 1000 times its own weight in water. 
A levels of hyaluronic acid decrease with age skin starts getting drier and thinner and fine lines appear, also causing painful joints, reducing flexibility and other signs of aging. After the age of 40yrs old, the body starts to decline the ability to produce hyaluronic acid. 
The average person has approximately 15 grams of hyaluronic acid in their body and one third of it is replaced everyday. 
The highest amount of hyaluronic acid in the body is found in the skin. 
Dr Naina's Hyaluronic acid is the most active form of the molecule and is used for optimum absorption. 
Its the ultimate skin moisturizer and rejuvenation within the skin from the beauty within.
Anti-Aging benefits

Helps production of collagen

Reduces wrinkles and discoloration

Reduces sagging of the skin

Provides lubrication to the connective tissues for your joints and skin

Has anti-inflammatory properties

Antioxidant defense to fight UV damage

Reduces redness and dermatitis

Improves skin texture and softens skin outer surface for smoother skin and appearance.

Helps dry eyes and skin

Preserves bone health and strength
Dosage benefits:
500mg - 100mg a day for 6 weeks then maintain at 500mg daily. 
These statements have not been evaluated by the Food & Drug Administration. This products is not intended to diagnose, cure, mitigate, treat, or prevent any disease.