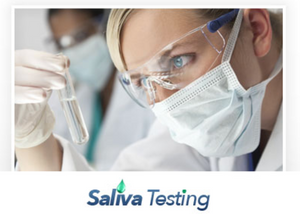 Health and Hormonal Testing
Sale price Price $258.00 Regular price
Saliva testing is an easy and noninvasive way of assessing your hormone balancing needs and is proving to be the most reliable for measuring hormone levels. Unlike serum tests, saliva testing represents only hormones actively delivered to receptors in the body. Clinically, it is far more relevant to test these bioavailable hormones and provide an accurate reflection of the body's active hormone levels.
The Saliva Hormone Panel provides a basic evaluation of the sex hormones and a brief glimpse at adrenal function with the AM cortisol level. This panel is useful when retesting for those who have begun hormone therapy, or feel their hormones levels may be out of balance causing symptoms that are keeping you from feeling your best.  
Women Experiencing:
Hot Flashes
Anxiety/Depression
Night Sweats
Breast Tenderness
Irritability
Forgetfulness
Irregular Menstrual Cycles
Vaginal Dryness
Uterine Fibroids
Increased facial/Body Hair
Acne
Fatigue
Infertility 
Weight gain/loss
Libido
Mood swings 
Men Experiencing: 
Decreased libido
Erectile dysfunction
Weight gain
Loss of stamina
Decrease in mental sharpness
Reduced muscle size
Increased moodiness
Metabolic syndrome
Prostate enlargement
gynecomastia
Fatigue  
Depression/Anxiety 
Infertility 
2 Tube 
t
est 
k
it consist of the following panel:
4 Tube test kit consist of the following panel: 
Cortisol X4 (Morning, afternoon, evening, night)
Androstenedione 

This is an at-home kit with instructions. Results typically received within 3-5 business days after kit has been received by laboratory. 
NOTE for menstruating females: This test should be collected between days 19-21 of menstrual cycle.
Once purchased, a saliva kit (with instructions) will be drop-shipped to the address provided. Patient will be contacted from Dr Naina's office once results are received to schedule a consultation. 
Dr Naina Sachdev office offers a variety of laboratory services to help patients uncover their underlying health problems and guide them on the path to proper health. Comprehensive testing is critical for understanding one's individual health and the steps required to improve biochemical imbalances.
Comprehensive health profile includes:
Lipid panel
Comprehensive Metabolic panel
Complete blood count w/auto diff
The blood test screens for cardiovascular risk, major organ function, anemia, cholesterol, glucose (blood sugar) infections, blood disease, and other indications of illness.
Additional panels are available upon request.
PSA
IGF
25 OH Vitamin D
Anti Mullerian hormone 
Iron & TIBC
Hs-CRP
Ferritin
Estrones 
Estradiol 
DHT 
Free & Total Testosterone 
Progesterone 
Homocysteine 
Iodine 
Thyroid panel:
Free T3
Free T4
Reverse T3
TSH
TPO
Symptoms of Hypothyroidism Thyroid Hormone Imbalances
(Underactive Thyroid) 
Weight gain
Physical or mental fatigue or lethargy
Depression or irritability
Dry skin and or hair
Muscle pain
Painful periods
Intolerance to cold or cold hands and feet
Constipation, gas, bloating or indigestion
Sore throat or nasal congestion
Poor memory
Symptoms of Hyperthyroidism Thyroid Hormone Imbalances
(Overactive Thyroid)
Nervousness, anxiety and irritability
Sudden weight loss without a change in diet
Rapid heartbeat
Tremors in your hands and fingers
Sweating
Changes in menstrual patterns
Increased sensitivity to heat
Changes in bowel patterns, especially more frequent bowel movements
An enlarged thyroid gland (goiter)
Fatigue, muscle weakness
Difficulty sleeping
Skin thinning
Fine, brittle hair
Chronic stress can deplete thyroid function as the stress hormone cortisol inhibits thyroid function. Autoimmune disease of the thyroid can cause both hypo and hyperthyroidism, as the antibodies can either block or stimulate the thyroid receptors.
The test checks the levels of key hormones produced by your thyroid. The test is designed to establish current levels of these important hormones so any imbalances can be corrected.
 ADDITIONAL TESTING AVAILABLE 
Allergy panels 
Food Allergies 
GI-MAP Testing 
Heavy Metal testing 
Micronutrient Testing
Genomic Testing
Telomere Testing
In Body Composition Analyzer
TruAge Diagnostic Testing
Lipoprotein Testing
Cardiac Marker Testing
Inflammatory Marker testing
Natural Killer Cell testing
Immunity Testing
Covid Testing
NeuroTransmitter Testing


Please contact our office at 310-777-7511 to schedule your consultation for what tests are recommended for you. 
Tests can be purchased with most insurances or out of pocket.