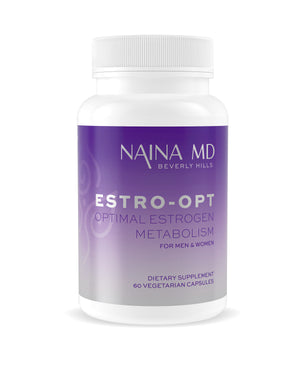 NainaMD ESTRO-OPT
Sale price Price $38.00 Regular price $48.00
Enhanced with BioPerine (All natural black pepper extract) to maximize absorption of DIM, IC3 Carbinol to get the full benefits of each capsule digesting faster and easier.
DIM Complex supplements are a powerful aromatase inhibitor, aids hormone balance by supporting the body's metabolism and reducing excess estrogen and toxic buildup. Made with veggie capsules, Gluten Free, Vegan, Non GMO, Soy Free, Dairy Free, and Cruelty Free; Manufactured in an FDA-Registered facility that adheres to GMP guidelines.
Women benefits:
Menopause relief, night sweats, hot flashes 

PCOS symptoms

Reduces excess estrogen weight & weight management

PMS

Libido

Acne

Menstruation

Endometriosis

Hot flashes & night sweats

Hair loss

Fibroids 
Men Benefits:
Boost Testosterone

Reduces abdominal weight

Libido

Reduces Estrogen

Acne

Andropause

Hair loss

Gynecomastia

Prostate Health
*Legal Disclaimer
These statements have not been evaluated by the food and drug administration (FDA). This product and statements regarding dietary supplements have not been evaluated by the FDA and are not intended to diagnose, treat, cure, or prevent any disease or health condition.