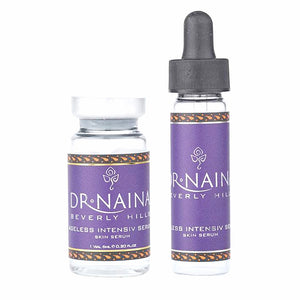 NainaMD Beverly Hills Ageless Intensiv Skin Serum
Sale price Price $125.00 Regular price
WHY DOES TOPICAL APPLICATION OF GROWTH FACTORS (GF) WORK?
Targeted Natural Skin Proteins That Are Found In Young Radiant Skin Which Decline with Age
FDA Facility Produced
Laser Selected Highly Concentrated
Increased Skin Cellular Turnover
Increased Skin Collagen Production
Increased Skin Elastin Production
Increased Skin Hydration
KEY INGREDIENTS 
Essential Skin Proteins
Skin Polypeptide Growth Factors - FDA Approved Biotechnology
Palmitoyl Tetrapeptide-7
Palmitoyl Oligopeptide
Vitamins B2, B3, B5, B6
Vitamin C
Vitamin H
Premier Anti-Aging Hyaluronic Acid
KEY BENEFITS
All Skin Types
Rejuvenate, Regenerate, Repair
Potent Skin Tightening
Instant Luminous Skin Brightening Effect
Reduction In Hyperpigmentation
Reduction Fine Lines And Wrinkles
Even Skin Texture And Tone
Ultimate Skin Hydration
INSTRUCTIONS FOR USE
Open Vial And Finish Products In 7-10 Days For Optimum Results
Apply Topically To Entire Clean Face, Neck And Decollate
Best To Use At Night (May Be Applied Morning Or Evening Or Both)
Repeat Every 8 Weeks For Maintenance
Use Liberally
​

 

 "I believe in treating the whole body from the inside out using functional, anti-aging an nutrigenomic medicine. 

Once the body is corrected from the inside only then can the proper aesthetic treatments be successful and long-lasting.

I have customized the best regimens to the highest possible standards internationally."

Dr. Naina Sachdev
Dr. Naina Sachdev, known as NAINAMD™ BEVERLY HILLS most recently, served as the Ambassador for Procter & Gamble Olay® Regenerist skin care line, launched internationally.
She is also the Medical Director at her NainaMD Anti-Aging & Regenerative Clinic in Beverly Hills, CA and affiliate clinics with her current international client base from Beverly Hills to Dubai and Asia.
As a known speaker domestically and internationally she is highly regarded for her expertise in Anti-Aging and Regenerative which include aesthetic, functional medicine and integrative cutting edge treatments she has researched for 15 yrs resulting in a patent she obtained Sept 2016.