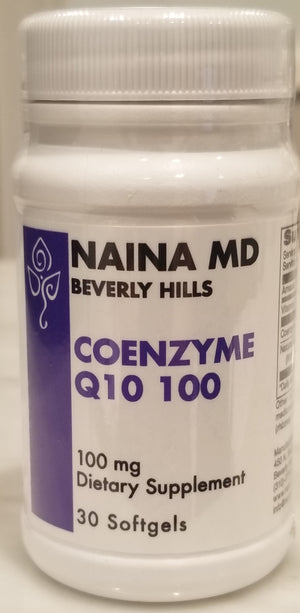 NainaMD CoEnzyme Q10
Sale price Price $38.00 Regular price
As an antioxidant that helps protect cells and vitality while energizing your body through mitochondrial bioenergetics of cellular energy transformation. Supports skin health, endurance, gum health, heart health promoting overall cardiovascular health by confronting oxidative stress.
 Dr Naina's CoEnzyme Q10 benefits:
Super cardiac antioxidant

Helps increase cognitive function

Helps boost energy and endurance

Works to slow effects of aging

Helps reduce muscle fatigue and muscle damage

Improves brain & heart function

Helps restore CoQ10 that may be depleted by aging and cholesterol lowering drugs (statins).
Dosage recommendations: 
These statements have not been evaluated by the Food & Drug Administration. This products is not intended to diagnose, cure, mitigate, treat, or prevent any disease.