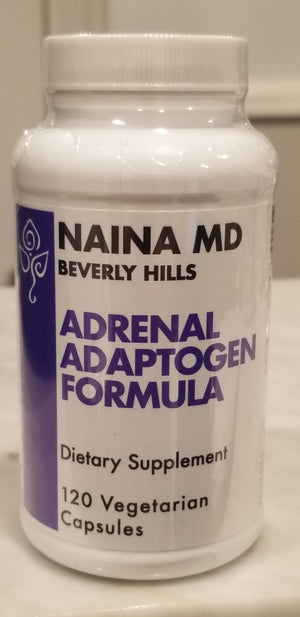 NainaMD Adrenal Adaptogen Formula 120ct
Sale price Price $42.00 Regular price $52.00
Our potent combination of Cordyceps Mycelium, Asia Ginseng and Rhodiola helps with Adrenal Fatigue and Mood Support. Natural and Plant-based herbs to enhance the body's resilience to stress, balance cortisol levels, boost energy, and fight fatigue.
Chronic stress is a major culprit in people's lives, contributing to ongoing cycles of fatigue, poor nutrition, waves of exhaustion, mood swings, and hormonal imbalance.
Herbal support is also a consideration when treating adrenal fatigue. Adaptogens are herbs that actually adapt to the individual needs of your body, providing the additional essential support your adrenals need.
Rhodiola may also help stimulate the release of some neurotransmitters in the brain, which can improve focus, memory and promote overall brain health.
Adrenal Stress formula key benefits: 

Nutritional support for healthy adrenal function

Supports healthy cortisol levels

Supports your adrenal glands and promotes proper gland function

Rhodiola is considered an Adaptogenic Herb, as it helps the body cope and adapt to various stresses in daily life.

Naturally promotes adrenal health, providing you with the best in stress management and focused energy.

Promotes respiratory and circulatory function as well as mental clarity in men and women

Helps improve resistance to stress

Improves sleep and restlessness

Supports happy healthy hormones
Suggested use: 
Take 2 tablets as directed 1 to 2 times daily. 
These statements have not been evaluated by the Food & Drug Administration. This products is not intended to diagnose, cure, mitigate, treat, or prevent any disease.